2010 - 2013
Art Director / Graphic Designer / Manager of Social Media Design & Strategy
Adventure Advertising, LLC
Exmark Outdoors Tour
Exmark Times: Printed tour program & quarterly digital magazine
Mow & Go with Hank Parker Promotion - Logo & Poster design
E-Newsletters - weekly
Exmark Toho Challenge: Fishing tournament Flyer design, Poster Design & Logo concepts
EXMARK TIMES: PRINTED TOUR PROGRAM & QUARTERLY DIGITAL MAGAZINE
Starting in 2009, Exmark ran an annual face-to-face promotional tour which travels to outdoor expos and trade shows across the country. The tour program is given to every person who stops by the Exmark booth. It contains landscaping tips, hunting and fishing tips, outdoor gear reviews, mower profiles and news about the tour. After year 2 of the tour, the Exmark Times was expanded to include quarterly digital magazines or "e-zines" that were distributed to the Exmark Outdoors email lists.
EXMARK OUTDOORS E-NEWSLETTERS

Weekly emails designed to engage recipients with relevant hunting, fishing and landscaping content.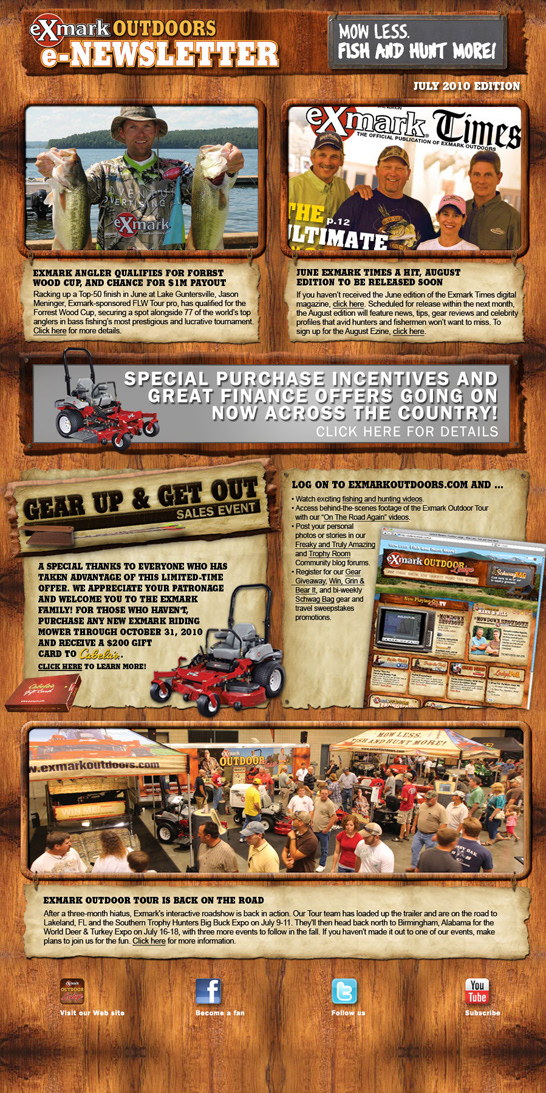 MOW & GO WITH HANK PARKER

Special Promotion jointly sponsored by Exmark and Cabela's.
EXMARK TOHO CHALLENGE
Special Event / Fishing tournament registration flyer design and Poster Design.
EXMARK TOHO CHALLENGE: LOGO CONCEPTS