2015
Art Director / Designer / Manager of Social Media Design & Strategy
Grant Jones (Graphic Design) + Turner Image Services
Promotional Graphics & Weekly Episodic Social Content
EPISODIC QUOTE GRAPHICS
Show Producers wanted to produce a show that had an "elevated" or "Prestige TV" feeling throughout. Therefore it was important to them that this "elevated" feeling also be mirrored across the show's marketing and promotion as well. The show's soundtrack played a big part in transporting viewers back to 1960's New York/America. With that in mind our Social Creative team drew inspiration from 1960/70's album covers and movie posters to create these episodic quote graphics.
EPISODIC GIFs
Public Morals was directed, shot and edited to look and feel like 10 Mini-films. My team strove to maintain this visual style with cinematic, high-quality GIFs to be used for weekly promotion and fan engagement.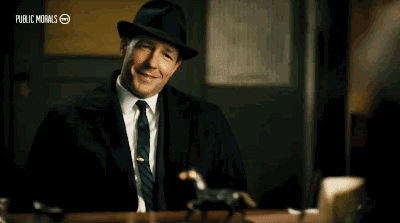 COUNTDOWN + TUNE IN GRAPHICS
Pre-premiere countdown + tune in graphics were designed using elements from show Key Art and Gallery photography.
EPISODIC RECAP GRAPHICS
Designed to look like the front page headlines of a period newspaper, these graphics were created and published as episodic "recaps" and were used to spark fan engagement/discussion.